Every Saturday I focus on a different artist that I admire. From potters to painters, chefs to collectors, seamstress to songwriters, lifestyle to lovers... anyone who set the paintbrush, pastry brush, hands and heart on fire to create.
Those who inspire art to flow where it may.
Karen Bailey's passion aside from her family is finding old things and crafting. She loves walking through antique stores and other interesting places to search for new treasures that she can use for her crafts or for her home.
Karen Bailey generously gives many free tutorials on her blog. Step by step ways to creating your own little beauties.
A paper feather bookmarker, was one of the first art projects of Karen's that tickled my fancy- isn't that one of cutest old fashion expressions ever?
Karen is such a creative soul she even goes so far as creating art to store her art supplies! Notice the boards she creates to wrap and store her antique lace? Gee it is art itself!
Certainly it is a sign of a creative soul! Creating art to store art. At every turn Karen touches the ordinary into sweetness. As if she is feeding the soul with tidbits of charm.
My Grandmother could crochet anything. When I was a teenager and admiring hippy-ness, I brought her a tiny crocheted coin purse. My Grandmother studied it for about two seconds, then told me what type of thread to buy and made it.
Unfortunately my fingers were not so nimble, and my attention not enduring...
Karen's crochet flower make my memories bloom anew.

Karen's step by step tutorials started over a year ago. Karen gives clear directions showing the tools, products and how to... Karen said about her paper flower pins, "I used two different older books with different shades of colored pages. (Then I ) Punched out small and large flowers from these pages."
When it comes to craft projects I love 'seeing' the details, it helps me get it.
Karen's blog
Todolwen
is ideal for step by step, tutorials.
What is there not to like about a doll shoe as a pincushion?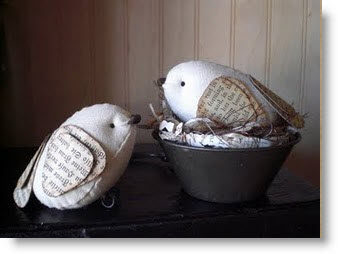 Todolwen is her creative blog, full of wonderful ideas for small craft projects.
Blog: http://todolwen.blogspot.fr/
Pincushion using vintage bits and pieces.
------------------------------------------
For more ways to create you might find these blogs or books interesting:
Keepsakes: Recipes, Mementos and Miscellany
Collage Lost and Found: Creating Unique Projects With Vintage Ephemera