What it is, What it is...
How to lace a corset... look here.
It is a tool to fasten a corset's hook and eyes, and or to pull the strings tighter.
The loop is to attach to the corset, decoratively.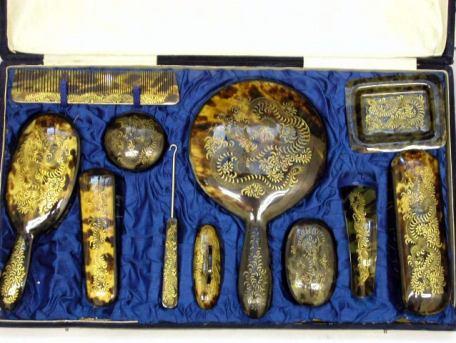 photo source and where to buy this set:
An antique lady's tortoiseshell dress set decorated with a gold motif. The set contains a mirror, comb, two hair brushes, clothes brush, nail brush, soap dish, shoe horn, two boxes and a corset hook.
Corset hooks that fold such as the one I found yesterday are harder to find.
Photo Source: Stellar Baby Prints
On creating the corset print she wrote: "....I imagined who would be wearing these undergarments. elizabeth bennett reading impassioned letters from mr. darcy in her blueberry underpinnings… laura ingalls walking on the prairie in her apple corset… mary poppins in that sassy s-curve banana… ladies on the titanic sinking in that skinny boob-to-hip constriction… "
Photo Source Antique Corset Gallery
Some corsets lace up,
some hook up,
some button up...
No matter how you tighen a corset, some of you has to come out somewhere.
Note: The bottom part of this corset is, um, is undone.
 A chatelaine's (A woman of the chateau) corset fastner.
Judy was the first to answer it correctly: Corset Fastner.
Most Creative Guesses: Little Bad Wolf: Pony Hoof Cleaner,
and PeggyI seeds, a royal fishing hook.
Please send me your addresses through my email.
Thank you for playing, good guesses! I will put this corset hook on my shop.